Fiberon Good Life – maintenance-free and environmentally friendly terrace

The purpose of a terrace is to enjoy the outdoors, not to carry out care or maintenance work. Fiberon's terrace board is made of recycled materials. Its composite structure prevents splintering, cracking and decay and keeps it looking tidy over the years. Three-sided polymer cap layer resists staining and fading. The material can also withstand water and frost without damage or distortion.
The environmentally friendly and maintenance-free Good Life terrace decks require minimal maintenance compared to the average pressure treated or hardwood terrace, saving your money and time. Washing is sufficient if necessary.
The terrace boards look and feel like a real wood. You can choose either a multi-tonal or solid color for the terrace, which can be neatly installed without visible screws.
Fiberon is an American company that manufactures high-quality and environmentally friendly terrace and cladding materials, hand railings and outdoor furniture.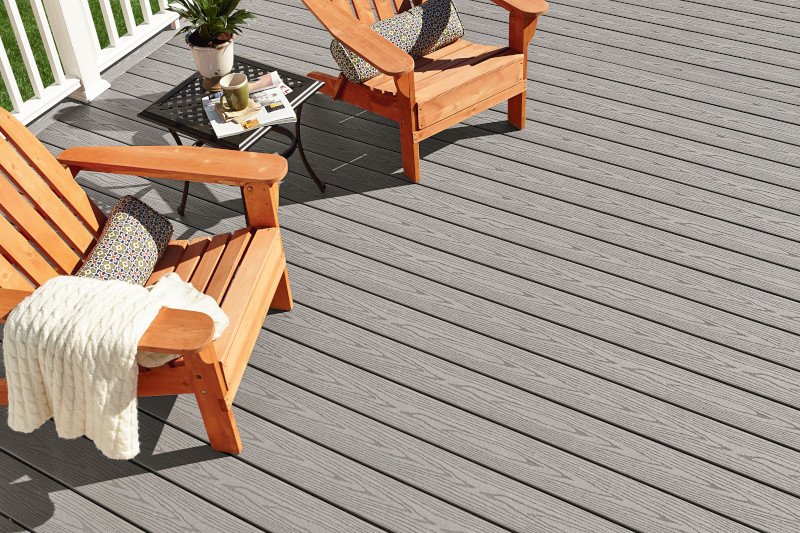 An exceptionally beautiful design for the terrace
The appearance of Good Life decking boards has the look and feel of real wood. You can choose either lively wood grain patterns or a stained, one-tone look for the terrace. The terrace boards can be installed neatly without visible screws, so the look is finished and stylish.

Good Life terrace features
Fiberon Good Life terrace is suitable for both public use and the backyard, as the strong terrace board is resistant to wear and non-cracked material is safe to use.
Maintenance free and care free
The terrace is maintenance free and easy to keep clean. Terrace boards do not need to be oiled, stained or painted, just washing if necessary is enough. Terrace boards also do not need to be replaced due to decay.
Resistant
The terrace retains its appearance and is resistant to wear and tear. The surface of the terrace board repels stains and does not fade. A 25-35 year guarantee guarantees that the Fibero terrace is a sure choice.
Environmentally friendly
Terrace boards are made of recycled materials using sustainable methods.
Low costs of life cycle
The terrace decking is durable, long-lasting and maintenance-free. Costs stay under control. Low life cycle costs are a sensible choice!
Safety
The Fiberon terrace does not crack or break and is not slippery, making it safe for both children's bare feet and pet's paws.